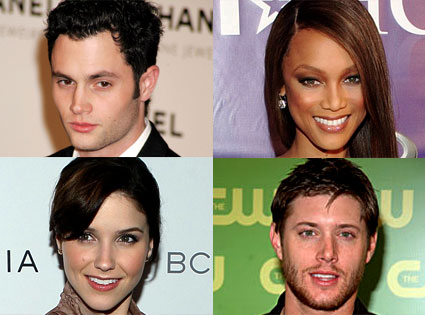 The CW is hoping to keep/lure back fans post-strike by announcing the return of some of their post popular shows. The new network has ordered up episodes of "One Tree Hill", "Supernatural", "Smallville", "Gossip Girls" and "America's Next Top Model" for next season.
I don't know about you but I'm pretty damn excited. Smallville is the network's number one rated scripted series, but it's fate has been in question as of late as the show has entered it's later seasons with slumping ratings. But Tom Welling fans can rejoice (Welling is from Okemos, Michigan so he certainly had me cheering!) because the hunk will be making a comeback as our devilishly handsome superhero.
I'm mostly excited about Gossip Girl though. If you watch EBUZZ or read this blog than you have seen me proclaim my love for the series more than once. I can't help it...hot guys, juicy story-lines, what's not to love?
On a personal non-CW related note...I'm also excited to say that my buddy Zach Levi's show "Chuck" was also picked up for another season. Yeah Zach!