*Move over Scarlett, Emma's coming through
-Emma Watson, best known for her role as Hermione in the Harry Potter series, will next be attempting to fill the shoes left by Scarlett Johansson. Johansson was set to play the role of Betsy Balcombe in Napoleon and Betsy but she back out upon finding the role was skewed younger than originally planned. Enter: Watson. Watson will take over as a young noblewoman who fell in love with the Napoleon when they were both confined on St. Helena, a British Isle. Johansson may not be the lead, but she'll still be on board with the project as a producer.
*Vanessa Hudgens new album
-Vanessa Hudgens, the
High School Musical
star who recently made headlines for her nude internet photos, is hoping to use her new found popularity to push another album. For people who actually want to hear her sing, you can pick up her new album,
Identified,
in stores on Tuesday, June 24. The album's first single, "Sneakernight," is said to be hitting iTunes on Tuesday, May 20.
* David James Elliot's new gig
-He was quite possibly the hottest man in uniform on television and now, David James Elliot, is set to be the best looking astrophysicist on Earth. Elliot has signed on to star in the four-hour miniseries
Impact.
The show follows Elliot's character who discovers that a meteor shower has pushed the moon off its orbit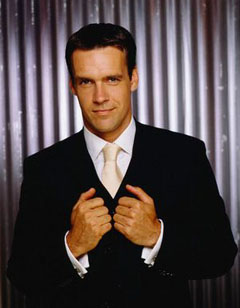 and put it on a collision course with Earth.
*Ashlee Simpson hopes to sell her music to kids
-Ashlee Simpson's music career has been in the crapper since her lipsincing fiasco. Now the newly engaged singer is hoping to reel in a new audience. Simpson is set to appear on the Nickelodeon show Dance on Sunset where she'll share with audiences her latest single "Little Miss Obsessive". You know things are bad when the only channel that you can sell your music through is Nick.