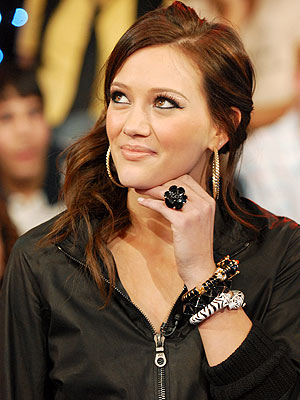 I did NOT see this one coming. Hilary Duff has made very few headlines since her Disney days... most recently she's been in the news for her production deal with NBC. Today, however, made Upper-East Siders look twice at her name as it was announced that she'll join the uber-popular CW show
Gossip Girl
.
Duff will take a page from Miley Cyrus' "Best of Both Worlds" routine when she plays Olivia Burke, a movie star who enrolls at NYU looking to lead a normal life (LIKE THAT'S GOING TO HAPPEN!) Duff's character will be roomates with Vanessa.
I'm not sure if Hilary will play a good girl, or a vixen but either way I'm more than a little shocked at the announcement. Remember... Duff TURNED DOWN the lead role in the CW's
90210
because she wanted to do "more mature" projects. It sounds like maybe she's decided she just wants to do successful ones. I don't remember the last time Duff did ANYTHING worth watching.
Will this be a career booster for the former Disney Tween Queen, or will she sink faster than the Titanic in her new gig? VOTE in the new EBUZZ poll and then find out this fall when
Gossip Girl
returns to the CW.