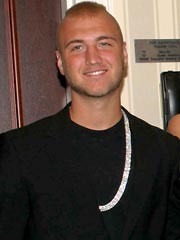 Nick Hogan may be a skilled drift-car racer in "Hogan Knows Best", but his abilities behind the wheel couldn't keep him from smashing his Toyota Supra into a tree in August. Hogan sustained minor injuries and was released from the hospital the next day, but his passenger, 22 year old John Graziano wasn't wearing his seatbelt and as a result was critically injured. He is STILL being hospitalized.
The 17 year old son of professional wrestler Hulk Hogan is being booked on criminal charges. He turned himself in to the police on Wednesday. Hogan's lawyers seem confident that in court the situation will be deemed an accident. In the meantime they have released a statement on behalf of the Bollea (Hogan) family. The statement claims that as a result of the accident the Hogans will campaign for seatbelt use.
My question is this: If Nick ends up being found guilty, and does prison time, does "Hogan Knows Best" go behind bars?
Easter is quickley approaching! If you are on the hunt for the perfect easter bunny costume, look no further! Our website will provide you with the best selection of halloween costumes, easter costumes, christmas costumes, st patrick's day costumes and so much more! If you need adult costumes or children's costumes, we can help!