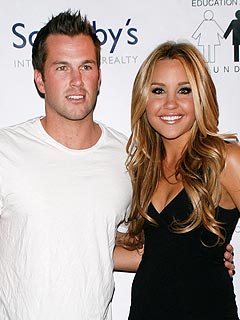 As of this week, Amanda Bynes is back on the market and its probably for the best.  Bynes, 22, had been dating Doug Reinhardt, a baseball player whose claim to fame was being friends with L.C. from
The Hills.  
The two had gone on an exotic vacation together late last year and seemed to be fairly happy, up until last week when, as
People
reports, both Bynes and Reinhardt had been openly upset with each other.  
While reports from friends close to the pair vary on whose to blame, I'm siding with Amanda Bynes on this one.  Reinhardt may be good looking and athletic, but Bynes has much more going for her.  She's actually got half a brain and can make me laugh til it hurts.  Nothing puts a smile on my face like Bynes dressed up as a boy in
She's the Man.  
If her comedic talent weren't enough to convince you to take her side, just think about the other tools that have gotten their 15 minutes of fame as a result of the hills.  Does Brody Jenner ring a bell?  If one were to look up "over-privileged tool" in a dictionary, one would find Jenner, Brody picture.  If he isn't evidence enough, just think Justin Bobby or the king of the toolbags, Spencer Pratt.   
All in all, I'm gonna give the upper hand in this breakup to Bynes.  She's probably better off staying away from fame-whores who have little to offer but good looks and money.