I feel I need to start with a follow up to my Tuesday night TV advice. Thanks to the magic of the internet I was able to watch both 90210 AND "the Secret Life of the American Teenager".
Having met Shawn Johnson while in Beijing, I was curious to see her highly anticipated cameo in "Secret Life". The result? It was quite possibly the worst cameo I have ever seen. Shawn was, as always, incredibly cute but the horrendous quality of the dialog assigned to her left her little to work with. As a result her appearance was awkward and the laughs that followed weren't due to the comedic nature of the scene, but rather the sheer awkwardness of it.
As far as season finales go, "Secret Life" sucked. There wasn't a major cliff hanger, the pace to the episode was relatively slow, and the main character (the pregnant girl the show is supposed to be about) was hardly in it.
Luckily, "90210" picked up the pieces. In the series second week on air viewers were treated to
a family themed episode that opened some plot twists and provided lots of character exposition.
The episode was themed around the Wilson family's attempts to have a night out together (of course, much to the chagrin of the Wilson children). I can't help but wonder how many teens might actually give spending time with their folks a chance after watching the show. It was a lesson in family values that even Brenda Hampton would be proud of (and it came without all the sap of "7th Heaven").
I'll admit the CW has me still on board. I'm usually a fan of "if it ain't broke don't fix it". But this reincarnation of the original hit is proving that a tweak here or there may not be so bad after all.
Finally, if you watched the VMAs, or have been paying attention to Entertainment news at all as of late, you'll have heard by now how the Jonas Brothers got slammed for sporting their purity rings.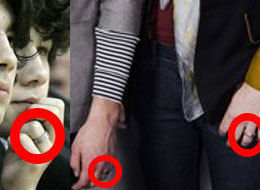 1) Good for them for wearing them in the first place (we don't need any more Jonas' running around any time soon).
2) Good for Jordin Sparks for sticking up for them (note: she wears one too).
3) The Jonas Brothers aren't the only high-profile celebs that have/or are sporting them (Hilary Duff, Jessica Simpson and even Miley Cyrus have been sited with them) and as a result are helping turn them into a hot fashion item. HOWEVER, just because Hollywood is making them a fashion item, doesn't mean that they should lose their value. If you are wearing one, are unmarried, and having sex then you're kind of defeating the purpose. IN OTHER WORDS, Jamie Lynn Spears-DON'T BOTHER GETTING ONE.