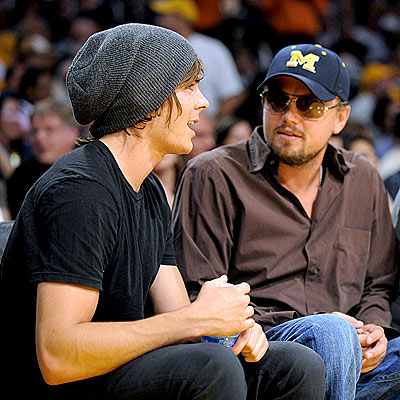 There is nothing I like more than the University of Michigan. OK, maybe my family and friends...but after that it's clear where my allegiances lie. That is why I get absolutely giddy when I discover someone else who shares my passion for the Maize and Blue. That giddiness gets taken up a notch when that person is a high profile Wolverine. Below I've compiled a list of some prestigious celebrity Michigan (wo)men.
1.) Leo DiCaprio.
This one came as news to me. But you don't wear a
Block "M" to a Lakers
game unless you have some serious Wolverines spirit.
2.) Russell Crowe.
There's a great story behind this picture. I caught Crowe on the SIDELINES of Michigan Stadium where he was helping then head coach Lloyd Carr to a victory over the Fighting Irish. Carr had spent time with Crowe and his rugby team in South Syd
ney after Crowe learned the legendary coach used
Cinderella Man
as a motivational tool for Wolverine teams. Lloyd helped South Sydney win a title, and to return the favor Crowe made a special trip to A2 while in the States promoting a new movie. Great times.
3.) Michael Phelps.
Phelps only has two tatoos. One is of the Olympic rings (surprise, surprise). The other...it's a block "M". That love is permanent, and very real.
4.) Derek Jeter
You know him as a Yankee. I like to think of him as a Wolverine. Jeter went to Michigan (not for long, but still he set foot on campus and in a classroom). He continues to don the Maize and Blue and can be seen on the sidelines of important games (in the picture he's at the Michigan v. OSU game).
5.) Lindsay Lohan
I'm not a Lindsay fan 99.9 percent of the time...but when she dons the Maize and Blue I have the sudden urge to see
Mean Girls
all over again.
Finally...my favorite...Michigan celebrities who give Maize and Blue love on tape.
Patrick Stewart's proclaimation to 100,000 plus Maize and Blue faithful...
And Will Smith's Michigan over OSU prediction...